Services Overview
Watch this short video to learn more about OSIbeyond's Managed Security Services.
CMMC Registered Provider Organization
OSIbeyond specializes in CMMC compliance and is a Registered Provider Organization (RPO) authorized by the CMMC Accreditation Body (CMMC-AB) to provide consulting services to DoD contractors seeking CMMC certification. In addition, with multiple Registered Practitioners (RP) available on staff, we have the credentials and expertise to guide your organization in becoming CMMC audit ready and maintaining compliance post certification.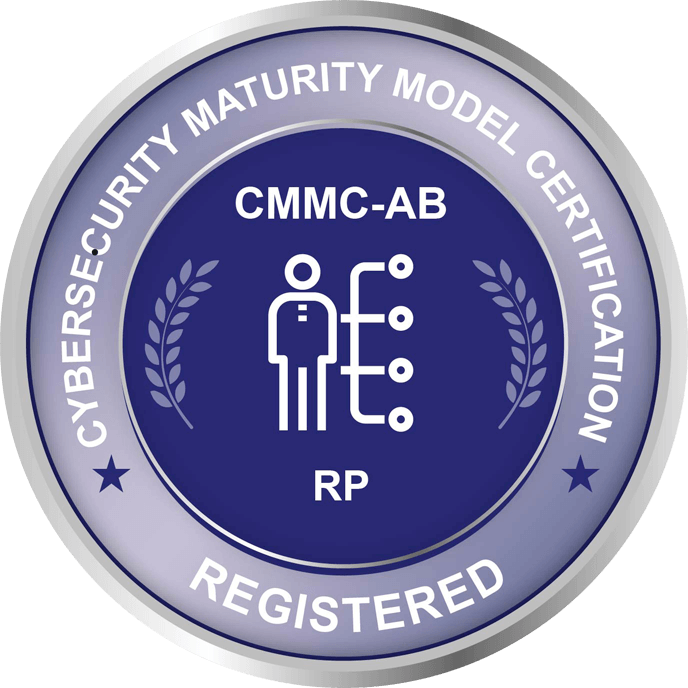 24x7 SOC Monitoring
Monitoring of data from multiple systems
Human analysis of alerts to determine validity (identifying false positives)
Notification of verified threats for example:

Indications of active ransomware
Suspicious remote-control session
Malicious file being downloaded
Indication of email account compromises (forwarding rules etc.)

Guidance on remediation of detected threats
Leveraging intelligence from other organizations
Expert Cybersecurity professionals
Second set of eyes on your systems/network
Benefits of using a 24×7 SOC
SIEM Solution
Web-based monitoring application
Works with sensors placed inside your technology ecosystem (monitoring all traffic)
Real time reporting of any signs of threat activity found in the monitored network
Provides enhanced threat analysis
Detecting and investigating threats within log metadata
Store logs for compliance (30 days)
Seamless deployment for workstations (no software/agents etc.)
Lightweight agent on servers (DCs only)
Analysis of combined data from multiple sources
Comprehensive visual on security posture
Office 365 Monitoring
Analysis of Office 365 logs and ingestion into the SIEM platform
Defend against business email compromise (BEC), account takeovers, and have visibility beyond network traffic.
Analyzing data from 365 in conjunction with other network assets
Multi-Factor Authentication
Provides second layer of security
Prevents account compromise even if user password is stolen
Deployed on all compatible applications, for example:

VPN
Email
Cloud based services (Dropbox, OneDrive etc.)

Mobile app or token devices
Security Awareness Training
Randomized simulated phishing tests
Intended to catch users off guard
Conducted continuously
Includes training content such as for new hire orientation, annual refresher training etc.
Designed to decrease social engineering fraud
Advanced Endpoint Protection
Next-Generation Antivirus Solution
Uses AI algorithm to detect and prevent threats
Able to isolate infection systems immediately
In the event of infection, provides rollback capability, for example:

Restoring infect system back to previously good state
Endpoint Encryption
Centrally managed encryption of storage on workstations (PC & Mac)
Protects data in the event of stolen or lost device
Common Cyber Security configuration requirement (audits/insurance etc.)
Vulnerability Assessments
Conducted biannually
Agentless scanning of network subnets
Identifying the most relevant threats to your environment
Remediation tracking and guidance for your IT staff
Fulfillment of audit/insurance requirements (historical record)
Scanning based on compliance requirements
Scanning of 3rd party hosted applications
Advanced Email Filtering
Sophisticated algorithm detects and prevents phishing/spam threats
Focuses on CEO Impersonation/ Fraud attacks
Monitors outbound email to build profile of trusted contacts within the organization
Mobile Device Management (MDM)
Provides inventory and reporting for mobile devices used to connect to corporate systems
Permits devices to be rapidly de-provisioned during employee off boarding
Allows for policies to be enforced for security settings and software update
DNS Filtering
Required at CMMC Level 3 (SC.3.192)
Provides an additional layer of reporting on endpoint activity, including when users are remote
Will block malicious URL's if a user attempts to access a link in a phishing email, even if that email was delivered to a personal account
PRICING
Please enter the number of users in your organization to obtain exact pricing. You can also hover over each item to read the description of that service.
24x7 SOC Monitoring
Monitoring of data from multiple systems
Human analysis of alerts to determine validity (identifying false positives)
Notification of verified threats for example:

Indications of active ransomware
Suspicious remote-control session
Malicious file being downloaded
Indication of email account compromises (forwarding rules etc.)

Guidance on remediation of detected threats
Leveraging intelligence from other organizations
Expert Cybersecurity professionals
Second set of eyes on your systems/network
Benefits of using a 24×7 SOC
SIEM Solution
Web-based monitoring application
Works with sensors placed inside your technology ecosystem (monitoring all traffic)
Real time reporting of any signs of threat activity found in the monitored network
Provides enhanced threat analysis
Detecting and investigating threats within log metadata
Store logs for compliance (30 days)
Seamless deployment for workstations (no software/agents etc.)
Lightweight agent on servers (DCs only)
Analysis of combined data from multiple sources
Comprehensive visual on security posture
Office 365 Monitoring
Analysis of Office 365 logs and ingestion into the SIEM platform
Defend against business email compromise (BEC), account takeovers, and have visibility beyond network traffic.
Analyzing data from 365 in conjunction with other network assets
Multi-Factor Authentication
Provides second layer of security
Prevents account compromise even if user password is stolen
Deployed on all compatible applications, for example:

VPN
Email
Cloud based services (Dropbox, OneDrive etc.)

Mobile app or token devices
Security Awareness Training
Randomized simulated phishing tests
Intended to catch users off guard
Conducted continuously
Includes training content such as for new hire orientation, annual refresher training etc.
Designed to decrease social engineering fraud
Advanced Endpoint Protection
Next-Generation Antivirus Solution
Uses AI algorithm to detect and prevent threats
Able to isolate infection systems immediately
In the event of infection, provides rollback capability, for example:

Restoring infect system back to previously good state
Endpoint Encryption
Centrally managed encryption of storage on workstations (PC & Mac)
Protects data in the event of stolen or lost device
Common Cyber Security configuration requirement (audits/insurance etc.)
Vulnerability Assessments
Conducted biannually
Agentless scanning of network subnets
Identifying the most relevant threats to your environment
Remediation tracking and guidance for your IT staff
Fulfillment of audit/insurance requirements (historical record)
Scanning based on compliance requirements
Scanning of 3rd party hosted applications
Advanced Email Filtering
Sophisticated algorithm detects and prevents phishing/spam threats
Focuses on CEO Impersonation/ Fraud attacks
Monitors outbound email to build profile of trusted contacts within the organization
Mobile Device Management (MDM)
Provides inventory and reporting for mobile devices used to connect to corporate systems
Permits devices to be rapidly de-provisioned during employee off boarding
Allows for policies to be enforced for security settings and software update
DNS Filtering
Required at CMMC Level 3 (SC.3.192)
Provides an additional layer of reporting on endpoint activity, including when users are remote
Will block malicious URL's if a user attempts to access a link in a phishing email, even if that email was delivered to a personal account
How many users?

CMMC-L2 Package

$

35

p/m

CMMC-L3 Package

$

50

p/m

24x7 SOC Monitoring
SIEM Solution
Office 365 Monitoring
Multi-Factor Authentication
Security Awareness Training
Advanced Endpoint Protection
Endpoint Encryption
Vulnerability Assessments
Advanced Email Filtering
-
Mobile Device Management (MDM)
-
DNS Filtering
-
SCHEDULE A DEMO GET STARTED